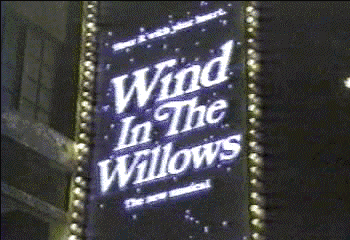 Nederlander Theatre, New York City
What do a Mole, a Rat, a Toad, and a group of belligerent Weasels have in common?
They all appear in this sparkling Broadway adaptation of Kenneth Grahame's beloved
classic. Nominated for three Tony Awards, Wind in the Willows on Broadway
starred the irrepressible Nathan Lane as Mr. Toad,
with Vicki Lewis (of TV's NewsRadio) as Mole,
David Carroll as Rat, and P.J. Benjamin as the Chief Weasel.


With a book by Jane Iredale, music by William Perry, and lyrics by Roger McGough and William Perry, Wind in the Willows has received numerous productions throughout the English-speaking world and has successfully played high schools, colleges, community theatres and professional venues. The cast is primarily adults, but with ample opportunities for children of all ages to be part of the ensemble. The show is funny and fast-paced with plenty of dance and with music ranging from rock (those Weasels!) to a waltz, a tango and a rousing Act One-ending Christmas Carol called "Joy Shall Be Yours in the Morning!" It is theatre to enliven any season and particularly at Christmas and holiday time.




The story tells how Mole, a curious young female, leaves her underground life for one of adventure and meets the kindly Water Rat, who agrees to show her the world. Part of that world includes his eccentric and very rich friend, Mr. Toad, whose outrageous fads and enthusiasms, especially for motor cars, bring trouble to everyone. When the old boxing champion, Mr. Badger, leads them to victory in a fight with the Weasels to recapture Toad's ancestral home, we realize that this isn't simply a show about animals with human characteristics, but a show about the delicate balance among all living things and about the surpassing value of friendship.



"The new musical based on the classic Wind in the Willows is a zany, exuberant, charming night of nights, zipped along by the wonderful Toad - ruler of Toad Hall - where greats like George Washingtoad and Attila the Toad once lived. Wind in the Willows is just wonderful. Look - 4 stars!"
NBC TELEVISION

"Something special! Rabbits and river rats and lovelorn moles sing and dance and crash motor cars to the musical magic of Wind in the Willows. Adapted by Jane Iredale with its sense of wonder intact. The spell never breaks. It's love and fun and wonderful!"

CBS TELEVISION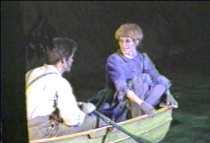 "Wind in the Willows has wafted into town like a zephyr on the summer breeze. I brought my eight-year-old consultant, and she says that she liked the show better than the novel. I'm inclined to agree with her. The whole production is a joy and a delight."
PBS RADIO

"For about as long as the search for the Holy Grail has been going on, theatre producers have been looking for a musical that satisfies adult tastes, yet has family appeal. Suddenly there is one - Wind in the Willows, a genial, joyful, "feel-good" show for the young and old. This is a show with heart and warmth ... it could become a beloved theatre classic."
WASHINGTON TIMES





Folger Theatre, Washington, DC
CAST


Male Principals:
Toad, Rat, Badger, Chief Weasel
Female Principals:
Mole, Chief Stoat, Jailer's Daughter
Featured Roles:
Judge, Prosecutor, Sergeant of Police, Mother and Father Rabbit
Ensemble:
Weasels, Stoats, Rabbits of All Ages, Police, French Peasants


ORCHESTRA


Conductor
Keyboard I - Conductor
Reed I
Flute, Piccolo, Bb Clarinet, Alto Sax
Reed II
Oboe, English Horn
Harp
(optional but lovely)
Keyboard II
Synthesizer
Percussion I and II
(divided for 2 players)
Trombone
Bass
Musical Arrangements and Orchestrations by Donald Sosin

Wind in the Willows is distributed by the Rodgers and Hammerstein Theatre Library,
who would be happy to send you perusal materials and price quotes. Please click on
the following link and then scroll down to the Wind in the Willows title. You may also
get information by phone at (866) 979-0447.

Concord Theatricals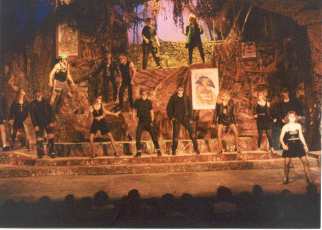 Springfield Little Theatre, Springfield, MO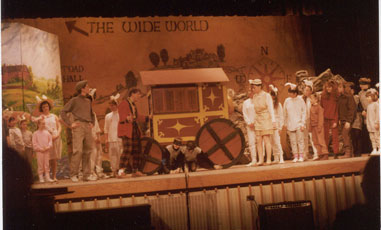 Mahwah High School, Mahwah, NJ
UNITED STATES, NORTH & SOUTH AMERICA
Concord Theatricals
235 Park Avenue South
Fifth Floor
New York, NY 10003
Toll Free: (866) 979-0447
website: www.rnh.com

EUROPE
R&H Theatricals Europe
Aldwych House
71-91 Aldwych
London WC2B 4HN UK

Ph: +44 (0)20 7054 7200
Fax: +44 (0)20 7054 7290
website: www.rnh.com
e-mail: theatricals@rnh.com


GERMANY, AUSTRIA & SWITZERLAND
R&H Theatricals Europe GmbH
Lützowufer 2610787 Berlin

Ph: +49 (0)30 25001312
Fax: +49 (0)30 250011369
website: www.rnh.com
e-mail: theatre.germany@rnh.com


AUSTRALIA & NEW ZEALAND
ORiGiN Theatrical
www.origintheatrical.com.au
011-61-2-8514-5204


JAPAN
Toho Music Corporation
www.toho-m.co.jp
011-81-3-3201-2400


ASIA
Broadway Asia
For performances in China, India, Indonesia, Korea, The Philippines,
Singapore, Sri Lanka, Taiwan and Thailand
www.broadwayasia.com
212-302-5559


AFRICA
DALRO
For performances in Botswana, Lesotho, Namibia, South Africa and Swaziland
www.dalro.co.za
011-27-(0)-11-403-9094

Copyright© 2003-2020 by Trobriand Music Company. All rights reserved.


This website was last updated on May 9, 2020